NEW PUBLIC CALL: BAM 3.2 MILLION TO SUPPORT INVESTMENTS IN PROCESSING CAPACITIES AND MARKETING OF AGRI-FOOD PRODUCTS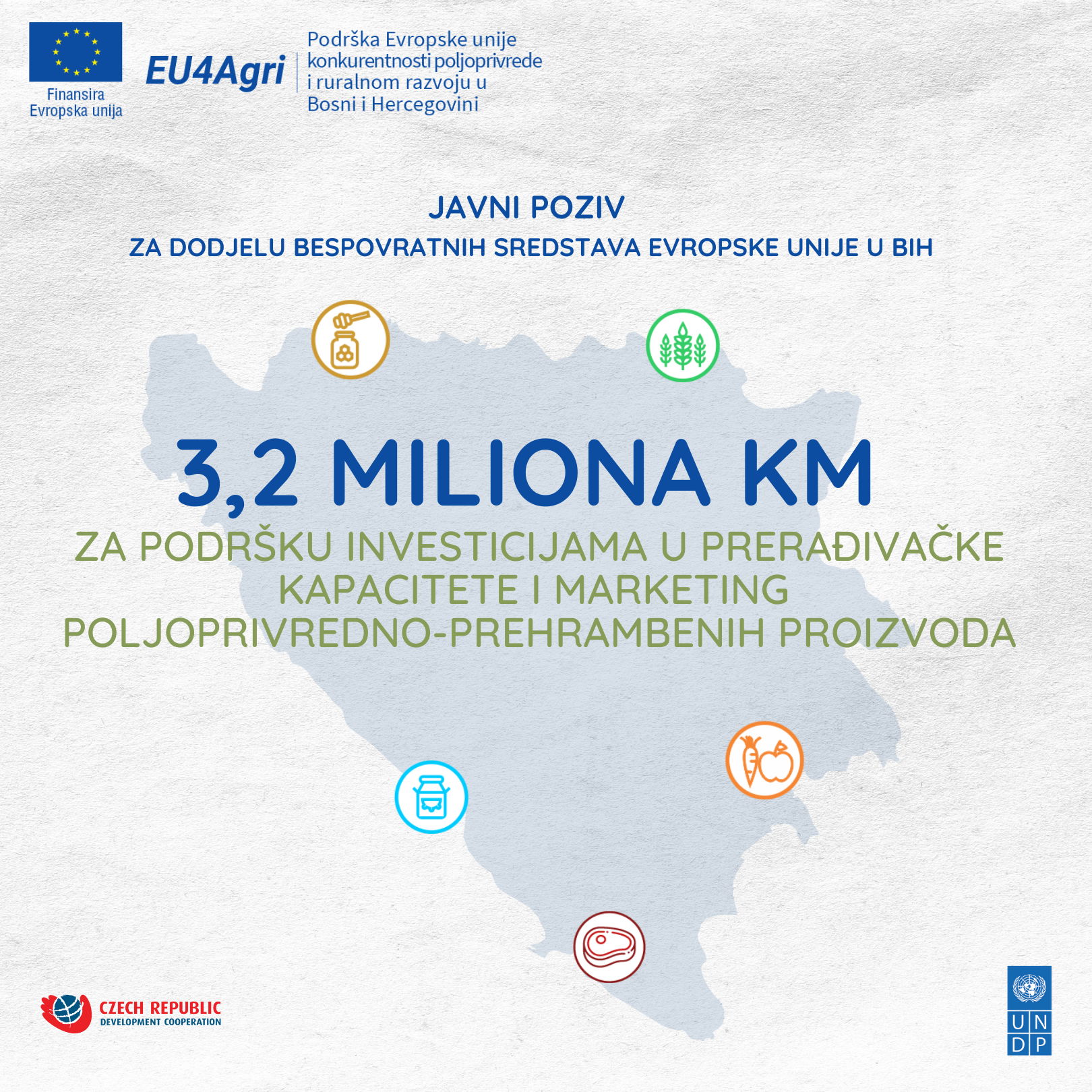 As a part of the EU-funded EU4AGRI project, a new Public Call of BAM 3.2 million has been launched to support investments in processing and marketing of agri-food products.
Eligible applicants include crafts, entrepreneurs, cooperatives and companies, micro, small and medium enterprises, and all projects related exclusively to the production of food products for human consumption operating in processing of fruit, mushrooms, medicinal herbs, spices, winemaking and olive processing, vegetables, milk, meat, egg, fish processing and canning, and cereal processing.
Applicants may submit only one application under this Public Call, for projects defined by this Public Call only and may do so only independently.
The same applicants may be supported through Projects' Support Measures up to three (3) times, taking into account all public calls to be launched by projects (2020-2024).
Support funds per application can range from BAM 30,000 to BAM 350,000 and can only be used to finance eligible costs (these amounts do not include VAT). The maximum amount of requested financial support cannot exceed 70% of the revenues generated in 2021 or a maximum of BAM 350,000. Co-financing must be in cash, and the participation of some other type will not be taken into account.
Applications can be submitted starting 5 May 2022 while the deadline is 7 June 2022 by 17:00 hrs.
Applications submitted through other channels (mail or email) will not be considered.
All interested parties can access the Public Call through the official website of the project, eu4agri.ba.
The first online INFO session will be held on Friday, 8 April at 10:00 hours, via the EU4AGRI Facebook page.
In addition, in the coming period, a series of info sessions will be organised in several cities in BiH. Information on the exact date and place of their holding will be published on our website.
EU4AGRI is a four-year (2020-2024) project of the European Union worth EUR 20.25 million, which aims to modernise the agri-food sector in Bosnia and Herzegovina. The project is implemented and co-financed by the United Nations Development Programme (UNDP) in BiH and the Czech Development Agency (CzDA).